As a singer-songwriter with music on Spotify myself, I feel excited writing this article showing you how to become an artist on Spotify because it means you're probably kickstarting your music career—congratulations! 
I hope this quick guide helps you get started and understand what you need to do in order to get your music onto Spotify.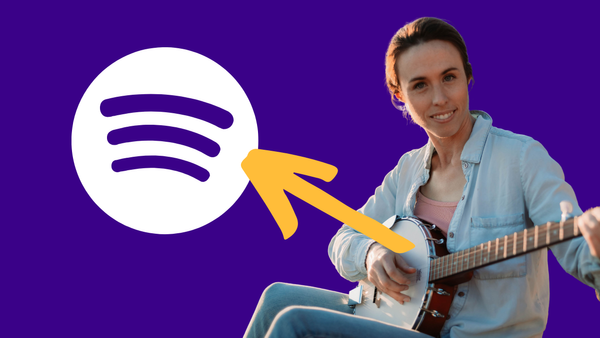 The awesome news is that you don't have to be signed to a record label in order to distribute music to Spotify (or any other streaming platform, for that matter) 
The tough news is that there is some work involved in the beginning when you are setting up the Spotify account and distributing your new music for the first time. Fortunately, after the first time, it gets much easier! 
How To Become An Artist On Spotify 
To be an artist on Spotify, you need to release music, or "deliver music", through a distributor. 
Side Note: You can also deliver music to Spotify through a record label, but because you're here, I'm assuming you're an independent artist looking to a DIY release for your first song. 
I've used two different distributors, which are both good: 
And there are a few more I haven't personally used, but I've heard other musicians like them, namely ReverbNation, LANDR, Tunecore, Ditto, and Amuse. There are a few more, but those are the main ones. They're all very similar, and to my knowledge none of them confer a direct advantage when it comes to the Spotify algorithm or gaining new fans or anything. 
In other words, you can't upload your music directly to Spotify, because Spotify is only a streaming platform. You have to go through a distributor so your song is registered in an online database and licensed properly. 
So, you don't go to Spotify to create an artist account—you'll use a distributor tool, and it will have easy tools and prompts to help you create and claim a Spotify artist profile. 
An additional positive aspect of using a distributor (aside from it being necessary) is that most distributor tools release your song to dozens of streaming services at once, if you want. 
For example, I've used CD Baby to distribute my song to Spotify, Apple Music, YouTube, SoundCloud, Deezer, Tidal, social media audio databases (like TikTok) and more than a dozen other streaming services, all in one go. 
Tip: If this is your first song release, my advice is to give yourself more than 12 weeks to figure it all out—choose a release date that is at least 12 weeks in the future. It just takes a while to figure out all of the features and forms and stuff as you go. Life is stressful enough—don't make it too hard on yourself. 
Claim Your Artist Profile On Spotify 
As I mentioned above, when you use a distributor (and you have to in order to release music to Spotify), the distributor "sets up" your Spotify profile for you, then has prompts that walk you through the process of claiming it. 
Here's an example of how CD Baby does this: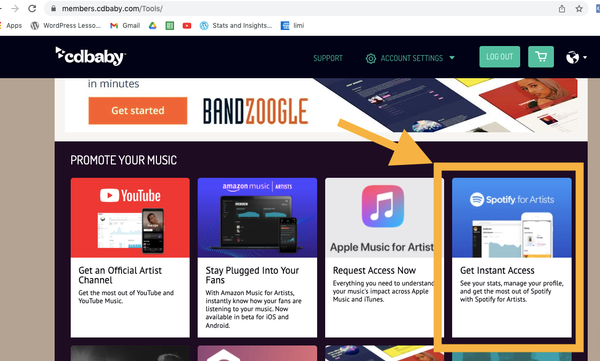 And here's how TuneCore helps you create and claim your artist page: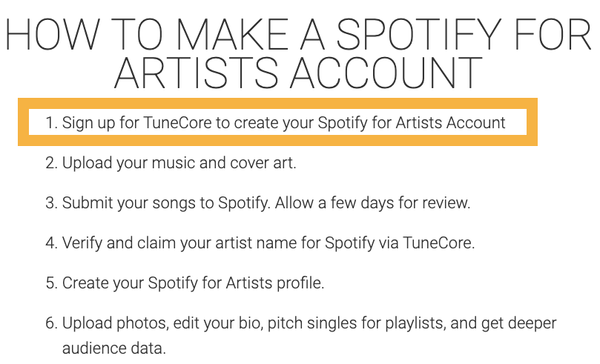 In my experience, you just follow the prompts from the distributor. I originally did mine through CD Baby. They make it really easy—it's like 2 clicks.
Edit Your Spotify Artist Profile 
Once you've used a distributor to distribute your song to Spotify and claim your profile, then you're able to go to artists.spotify.com, where you can get access to "Spotify For Artists". 
Things you can do in "Spotify For Artists" include: 
see stats about your song, like streams, saves, listeners, listener location, Spotify playlists your songs have been added to, and more 
edit the information in your Spotify profile, such as profile picture, additional images, and bio 
set your "Artist's Pick" (a song you want to feature on your Spotify profile) 
Here's an example of my Spotify For Artists Profile, behind the scenes.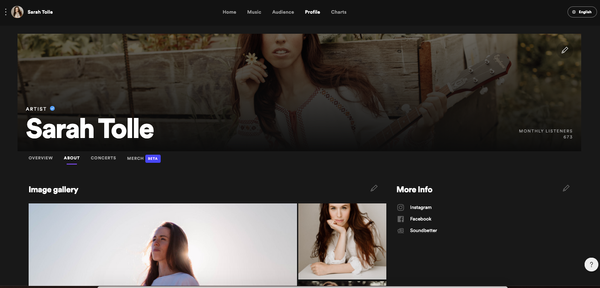 You can see in the example above how there are spaces to edit your bio, images, social media links, etc, in your Spotify For Artists profile.
How Much Does It Cost To Be An Artist On Spotify? 
Spotify doesn't charge artists anything to have our music on Spotify. However, distributing your music (through a distributor, like the ones mentioned above) does cost money. 
In my experience, it costs $15 to $30 to distribute a single track, depending on the distributor and plan you choose. Some charge per release, others charge per month or year, or a combination of the two. 
How Do Artists On Spotify Get Paid? 
It's actually pretty complicated, and I don't think we need to go into all the details here, but the short answer is that artists on Spotify get paid through their distributor. 
In my case, I actually see the money and can withdraw it from my CD Baby and Distro Kid accounts, because those are the distributors I use. 
The types of earnings you receive is honestly quite confusing as a new artist. You'll learn as you go, but here's a good introduction to the types of royalties you earn from music and how they are collected. 
Can Anyone Be An Artist On Spotify? 
As far as I know, yes. Anyone can be an artist on Spotify There's no test that you have to pass, and no gatekeepers you have to go through in order to get your music onto Spotify. 
If you have a song and you deliver it through a distributor (which are accessible to anyone), then you can be an artist on Spotify! 
Any Questions? Get In Touch!
Putting new songs on Spotify is a major milestone in your music career! Congratulations for getting this far, and I hope you keep going! 
Feel free to comment with your questions.
I've learned some interesting lessons about the music industry as an indie artist, too, and I am happy to help answer any questions I can about how to use Spotify, how to release music, build a fanbase, etc. 
All my best to you.