December is here, and I'm glad it is! 
I'm looking forward to relaxing and letting my mind wander a bit more. I've been driving hard with the marketing and song release stuff, and I can't wait to let it all rest for a few weeks.
Here's what I've been up to recently:
I bought a nude jumpsuit leotard
I won't tell you what it's for, but here's a clue: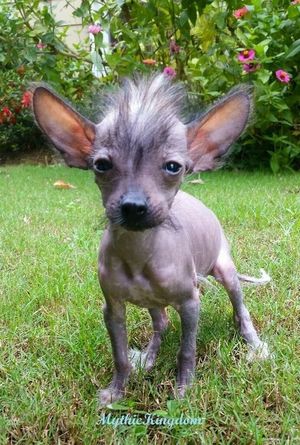 You'll see the results in February, right before Valentine's day.
I released my 4th single "Fight For You" on November 12th
It got almost 200K streams on YouTube in the first weeks, which gave my subscriber count a nice boost :)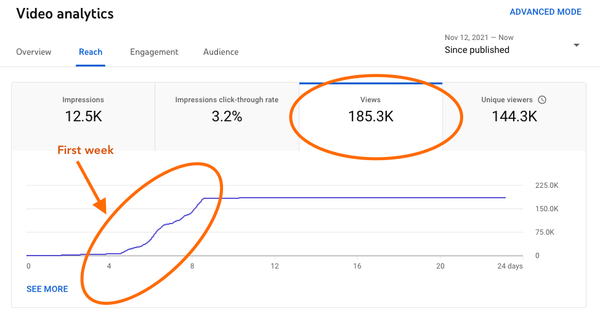 That screenshot shows my YouTube stats and how they jumped the first week my song released.
I am doing a lot of influencer and blog outreach for "Fight For You"
The song speaks about mental health so I've been reaching out to TONS of mental health blogs and social media accounts to see if they'll share the song with their audience. 
I've asked 367 people if they'll share my song (on their blog, their Instagram story, etc). Guess how many people did?
13 people shared it. That's 3.5% of people I reached out to.
Why don't people share? I guess it could be many things:
They didn't receive the message (went to spam, they don't check messages, etc)
They didn't like the pitch (didn't make sense, wasn't clear, wasn't relevant)
They didn't like the song
They don't promote or share others' stuff as a policy, or sharing just isn't their style
They were interested but got distracted and forgot to respond
Also, if people shared it and didn't tell me or tag me, I wouldn't have a way of knowing
Anyways, I've learned that it takes quite a lot of legwork to get results!
Which is why...
I am on the search for a good PR person
Social media is fun for now (probably because I pretty much only make stuff FOR it and spend no time ON it), but I have a feeling that someday it's not going to be that fun anymore.
I want to have a PR plan in place so that I have other ways to get my name out there. I'd love to become known among music industry people for my skills in songwriting so that I can work on animated movie soundtracks and/or get hired to topline or sing vocals for other musical acts.
I've been conversing with a few PR folks but I haven't found the right fit yet. Soon!
I got back on the horse with acting
I've been taking a break from auditioning and acting class, but it's time to get back into it. I miss it! So, I've started working on a new demo reel so that agents can see if I'm a good fit for their roster. 

I also got myself onto the wait list for one of my favorite acting classes in Vancouver, at the Actor's Foundry.
I made a fancy new "Link In Bio" thing
I used one of those tools (koji) that lets you put links to lots of different stuff in a single page. Check it out: https://withkoji.com/@sarahjanetolle
I made a great leap in my use of technology, and I actually EDITED A PHOTO for the background on that "link in bio" thing. Usually I don't trust myself to edit visuals of any kind, but here it is: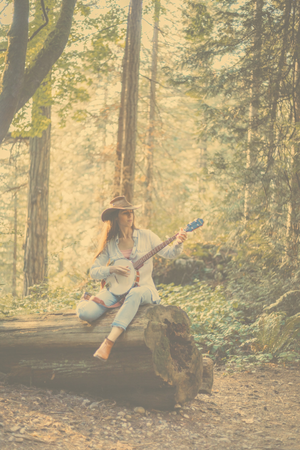 I tried to give the photo a warm, dreamy look.
Oh, and I celebrated my 31st birthday!
Here's the photo I chose to post on my birthday. I like it because I look like a freakin' champion!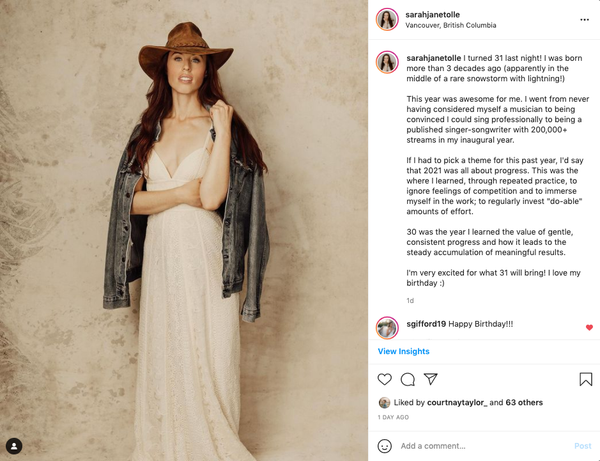 I took it easy on my birthday. I worked half the day, and played the rest of the day with music stuff. In the evening, I had a tasty dinner at the French Community Center restaurant in Vancouver!
Summary 
November was an intense month with my final song release for 2021. I have been busy working on my new songs for February and March 2022 already. I'm glad I have them rolling so that I can take some much needed relaxation time in December!