New Song "Like It Or Not" Is Out March 18th, 2022
I'm very happy to say that my latest song is releasing on March 18th, 2022!
This is a song about body image, body acceptance, and body celebration.
It's out on all the major streaming and music download platforms—find it wherever you listen to music, and read about the origins, meaning, and making of the song below.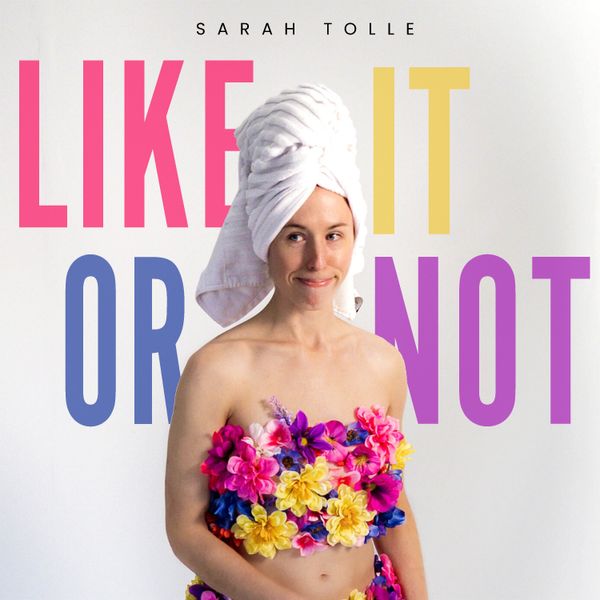 The Origins of "Like It Or Not"
I wrote this song by accident, at first. 
I am an actor, and one day while I was getting dressed after a shower, I started overthinking, 
"What if I'm on set one day, and I'm doing a naked scene, and a whole crew of people are all up close in my junk…?" 
Then this voice in my head said, 'Well, Sarah. Like it or not, this is how you look naked. They're gonna see what's there. The rest of it is all a story in your head.'  
That catchy little phrases, 'Like it or not' and 'This is how I' stuck with me for weeks. I had to write the song!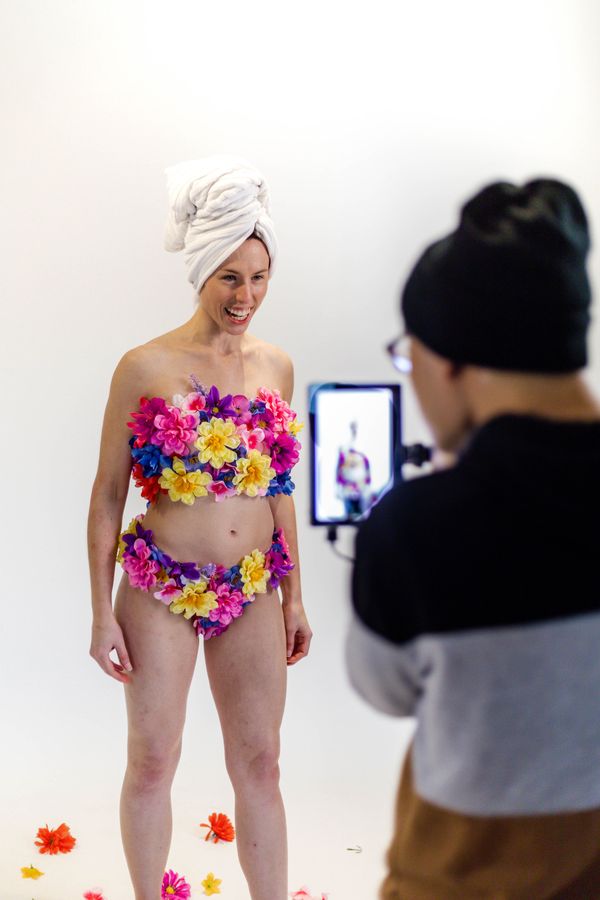 The Song's Message
The song's meaning comes from my personal experience of life. I probably have some opinions you think are cool and some opinions you think are total bullcrap, which is fine. We can still be friends.
Telling an inward and outward message
The message of this song is both outward and inward.
Originally, when I wrote it, the song was an inward note-to-self:
"Remember Sarah, no matter how anxious or ashamed you feel about your body, here you are—in your body, at this moment."
But of course you can also read the song as a message to society:
"Like it or not, this is how I look naked"
Either way works. 
Being self-referencing vs competitive
I've listened to body positivity songs that have a message like, "I'm a curvy girl and boys like me more than skinny girls, so there". I understand the intent behind this message, and there are some really fun songs out there, but I'm not 100% on board with that message. In a way, songs with this message are kind of saying, "My body is great—in fact, it's better than yours—because someone else approves of it". 
Instead my song says,
"This Is my body. That's it. It doesn't matter who likes it—whatever. Let's get over ourselves. Here we are, in our bodies. Let's dance."
Approaching body image from a humanitarian (not gendered) point of view 
This song does not approach body image as as issue of weight or womanhood—as a society, we are self-conscious about our skin conditions, height, how straight or white our teeth are, hair color, where our hair is and isn't, and so much more. 
I don't agree with black-and-white or divisive lines of thought that claim that one gender or sexuality struggles more with body image than others. Shame and joy are very personal experiences. You really never know what someone else is going through. 
As a woman, of course, the general societal assumption that "women have it worse" when it comes to body shaming has always been a tantalizing thought for me. I have definitely used this tempting notion as a crutch. Claiming it as my reality has made me feel more validated in being angry, ashamed, and stuck when it came to my body image. 
But if I've learned anything so far, it's that comparing your struggles to the struggles of others is a pointless and damaging effort. We can make room for all people who are struggling; their struggle does not take away from our own. Together, whole, and inclusive, we are more resilient. 
That said, "Like It Or Not" is not just for female bodies, or for curvy bodies. It's for all bodies. All ages, all colors, all abilities and sizes.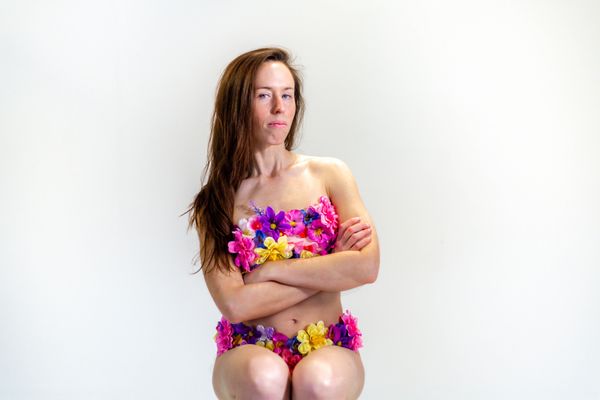 Being real about shame and the shadow voice
Accepting your body is a journey. We are born doing it naturally, but we get a little messed up through the years.
I think that most people feel we work hard to develop ourselves and "become confident" about the way we look.
But I believe the notion of complete "body confidence" is tripping us up (and letting us down). I also believe the idea of having "confidence" is bogus but that's for another blog post.
Everyone has insecurities. "Being confident" in your body doesn't mean you're free of insecurities and shame. It means that you experience all those things, and you also make room for celebration, nurturing, and gratitude.
If you like some parts of your body but haven't accepted other parts, well. That's life. You're on the journey. I wanted to include language in my song that would approach body acceptance from a realistic, non-glamorous point of view.
The lyrics are, "like it or not, this is how I look naked"—not, "I absolutely love myself all the time and think I look amazing all the time without fail".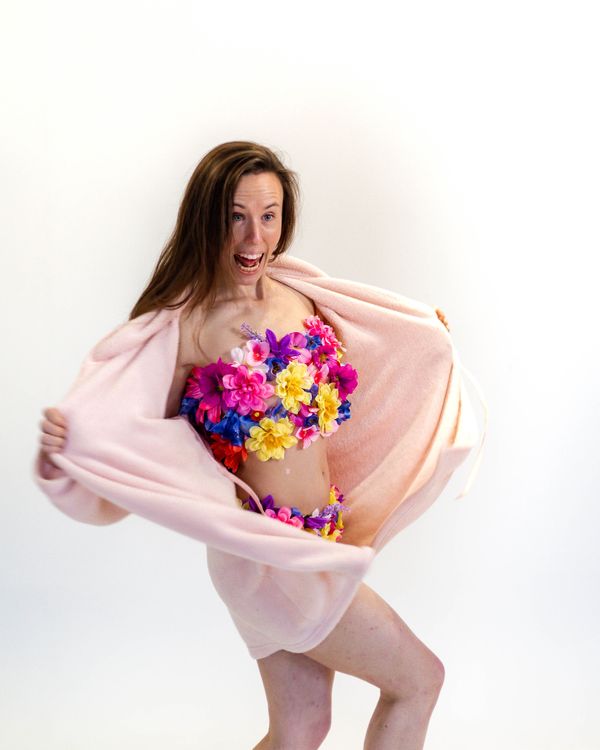 The Making Of The Song 
Writing The Song
I wrote this song without any instruments in the beginning. It was poppy and rhythmic, so I just walked around singing it and added percussion with claps and finger snaps and stuff.
It took a couple of months for that to come together in a natural way—I don't like to overwork my stuff. I prefer to work on whatever's hot and have faith that the right words and melody will come at the right time for whatever's on the back-burner. This one took a while because I wanted to combine a few different sections that were very different from each other. 
The part of the song about getting a beach body by taking your body to the beach is courtesy of my sister, Anna. I remember she posted this photo of herself in a swimsuit on the beach, and let's just say the photo was not chosen for being the most flattering. And she wrote something like, "Here's how to get a beach body: (1) Have a body (2) Take your body to the beach." I like that no-nonsense sentiment, and it was perfect for this song, so I wanted to find a way to build a section for that message.
Recording The Song
I recorded the demo track on my digital piano, with a single lead vocal track.
I dug around on the internet to find some reference videos from other artist whose sound and style we could draw elements of inspiration from. I knew I wanted it to feel bouncy and playful with a funky, retro, and danceable groove.
Here are a few references I sent to Ovi, the producer I worked with on the track:
Funkytown by Lipps — All the groovy 70s synth stuff, disco feeling, disco rhythm

Stayin' Alive by the Bee Gees — Again for playful, groovy 70's feel

Dancing On My Own by Robyn — For the punchy, energetic, dance feel, and intensity
The main thing I wanted to do with this song was to have fun with it! The spirit of the song was to not take itself too seriously. Ovi sent back a mix that 100% nailed it on the first try...as he usually does.
Making The Cover Art
I debated a lot about the concept of nudity and how I could approach the "naked" theme without actually being explicit or naked in the cover art and promotional materials. The song is supposed to be fun, not necessarily taboo or sexual.
I got the idea for a flower suit when I was taking some practice photos with my brother in my mom and dad's kitchen over the holidays. There was a bouquet of flowers on the table, and we thought it would look cool if I held it in front of myself to give the look of "covering up" even though I wasn't actually naked. 
That worked pretty well, so I decided to make a flower-covered suit for the official video and cover art shoot. I just went to the dollar store and got a bunch of flowers and sewed them onto some old clothes.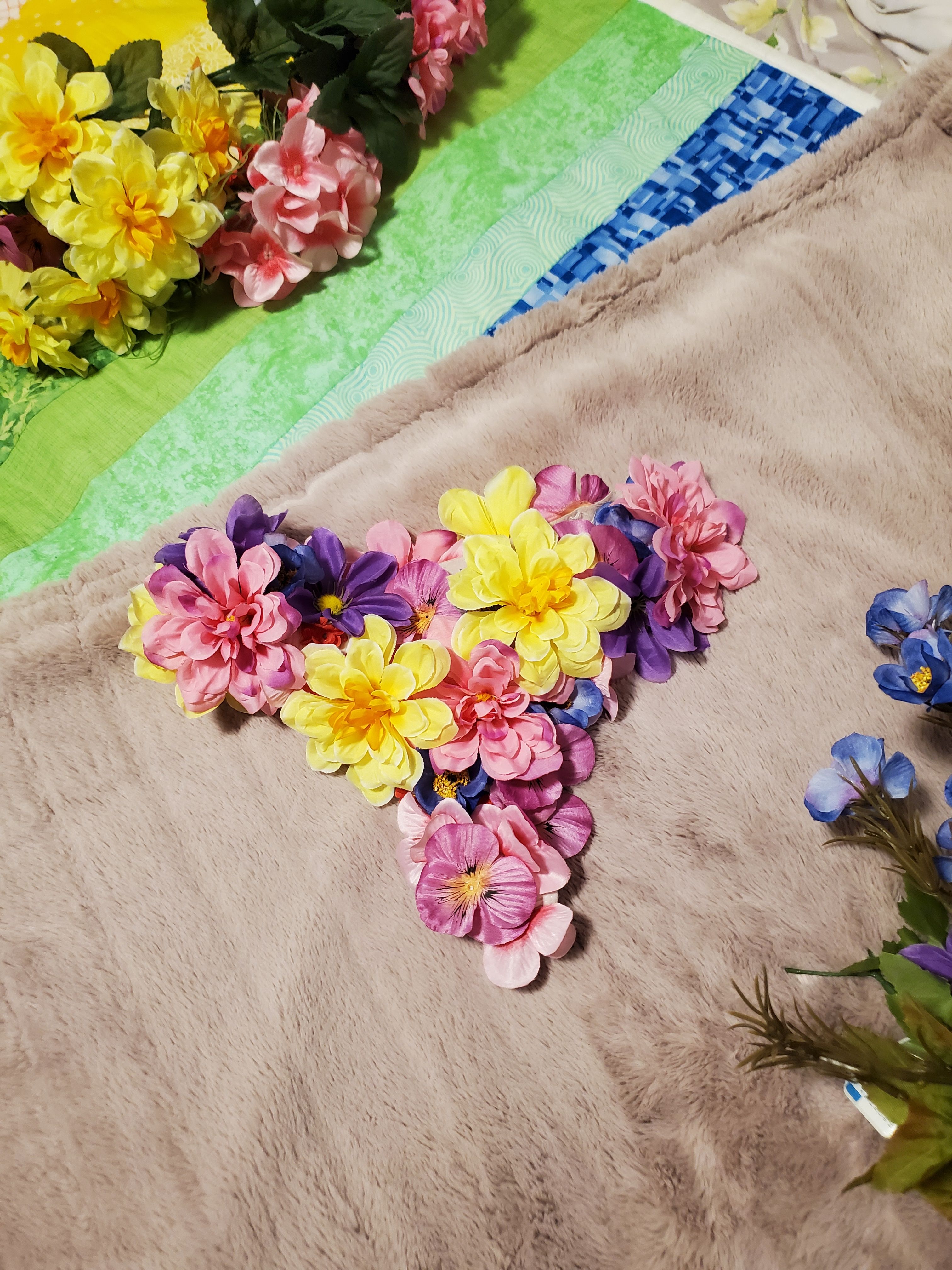 I like to sew, but wow, making that costume honestly took forever. I think it would have been simpler to just glue a few flowers on my boobs and call it done. But it did look cool when finished!
Once that was ready, it was time to film the little promo video teaser and get the cover art photos. 
We rented a space called AM Studio in Railtown, Vancouver. The hosts were great—they work in an adjacent video production office, so they were available to help with anything we needed: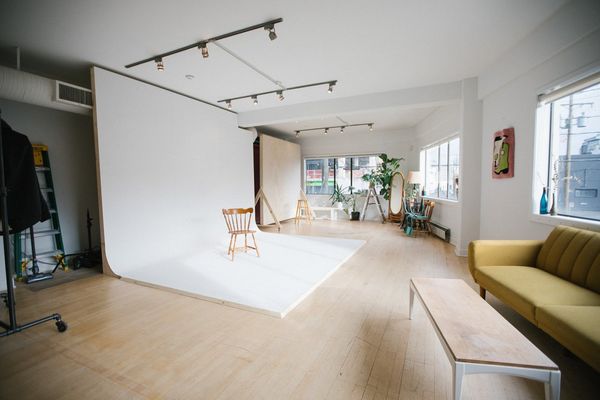 I asked around on Facebook for a local videographer who wanted to try shooting a video and I met videographer Alinar Daps who had a great portfolio and understanding of the project.
I also reached out to my photographer friend Courtnay Taylor to see if she wanted to try getting some behind-the-scenes shots as well as a photo for the cover of the single. I was lucky she said yes!

On the day of the shoot, we had extra flowers, so we decided to sprinkle those on the ground and used them throughout the shoot as props.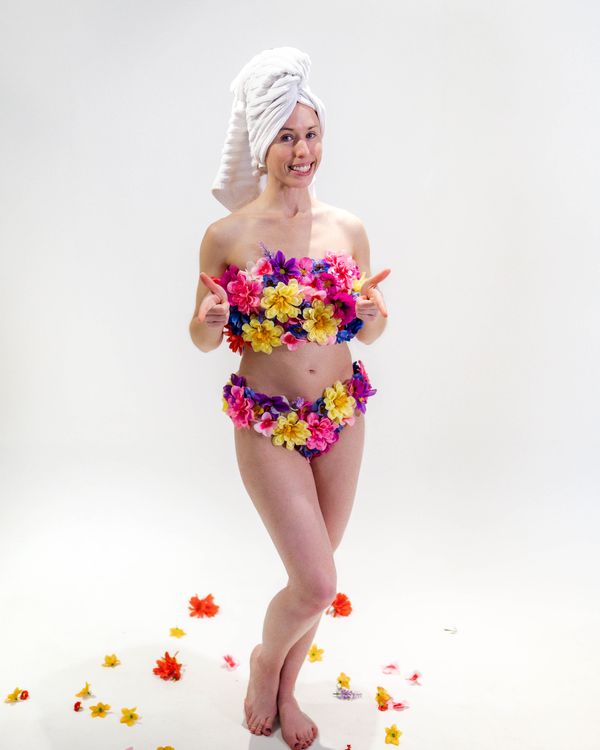 In creating the cover art and teaser video for this song, I intentionally did not wear makeup, and I didn't comb my hair after my shower. It was important for the integrity of this song's message that I show up unadulterated and walk the talk.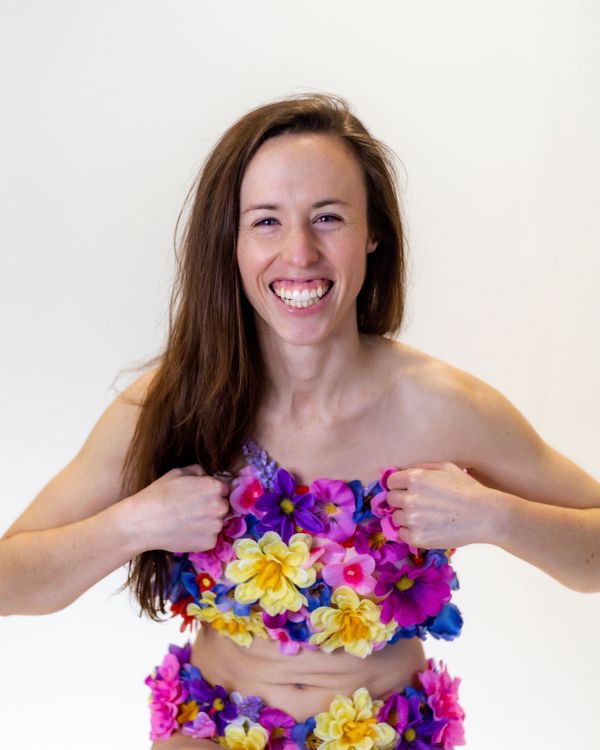 Overall, we were in and out in 2 hours. It was a fun and useful learning experience where I learned more about coordinating a video shoot, bringing creatives together, and trusting that the right creative decisions will make themselves apparent as you go!
Thanks for Listening
We live in a pretty freakin' cool time.
It's been awesome to see so many people and brands and nonprofits and influencers and businesses reaching for an expanded definition of physical beauty in the past decade, a definition that is more inclusive and embracing of the complexity and diversity of life.
This song is part of my contribution to that discussion, and my hope is that it resonates with other people and helps relieve them from that thought cycle of shame about their body.
This song is about giving ourselves the freedom to not care, even for a moment. To forget ourselves and to enjoy simply being in our bodies (like it or not!). 
"This is what I look like world, 
And this is how I sound
In the mirror, listen up:
You can't get me down
If you're hiding, you are loved
You can come right out"